Read about Seth's discovery of a fruit crop that is nutritious, climate resilient and profitable on a small scale.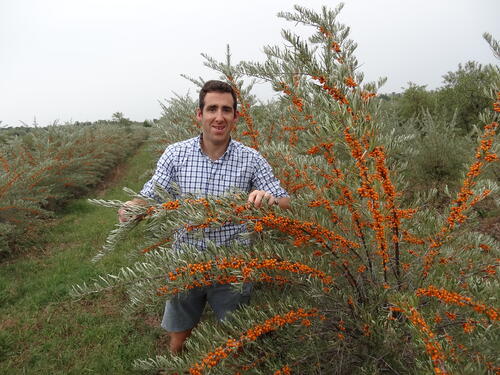 Farmable community member, Seth Pascoe, discovered sea buckthorn while trekking in the Himalayas. This simple encounter was the start of his journey as a sea buckthorn grower. Read on to learn more about Seth's discovery of a fruit crop that is nutritious, climate resilient and profitable on a small scale.
What exactly is sea buckthorn, anyway? We asked Seth to give us a proper introduction to this little-known superfood. Seth owns and operates the Cornish Seaberry Company, a niche business producing sea buckthorn in Cornwall, UK. In addition to managing a sea buckthorn orchard, Seth has also had the prestigious opportunity to travel the world as a Nuffield Farming scholar to both research and support the advancement of seabuckthorn production.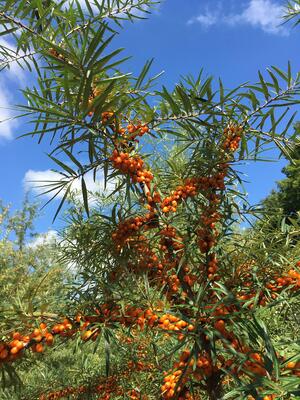 "Sea buckthorn is a small but powerful berry. It has a neon-orange colour and unique taste that is best described as tangy and citrus-like. The fruit has two distinctly healthy characteristics: it's very high in antioxidants and it contains omega oils. Amazingly, this little fruit contains a full complement of omega oils and is the only known fruit to contain omega 7."
Seth's journey to becoming a sea buckthorn producer started in an unlikely place, the base camp for Mount Everest. He was offered the berry by sherpas to ease the discomfort of altitude sickness and to his surprise, it worked. As luck would have it, Seth's passion for adventure travel was coupled with deep knowledge of agriculture. As a certified agronomist with a BSc in Crop Production, Seth was keen to learn more about seaberries.
"I was actually on the lookout for a high value perennial crop that I could profitably grow on a relatively small area given the high cost of agricultural land in the UK", explained Seth. "Sea buckthorn fitted the criteria nicely and as an added bonus it's a very resilient plant, so I'm hopeful that it will withstand the variation in climate that we're experiencing more of."
Returning home from Everest, Seth set about planting his first 100 seaberry trees which successfully grew near his home in Cornwall. Even better, the crop has flourished without the use of any pesticides. So what's difficult about cultivating sea buckthorn? The hardest part about seaberry as a crop is the harvesting, explains Seth.
"They are really difficult and labour intensive to harvest. We haven't overcome it really, we've just learned to put up with it!"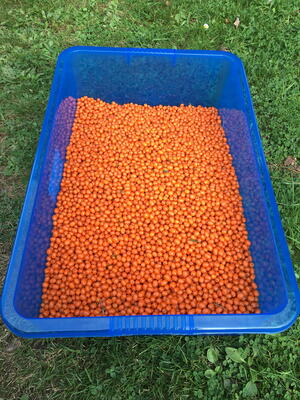 One challenge that is getting easier at Cornish Seaberry Company, is reducing the time spent on the documentation of crop nutrition. Seth has taken advantage of the Farmable app to record the wide array of nutrition products they use on the seaberries, including seaweed, fulvic/humic acid and trace elements. The Farmable platform has been rolled out to orchards and vineyards across the UK in the past couple years and is currently supporting data management for more than 200 farming businesses from Cornwall to Cambridgeshire. You can read more about top fruit grower, Paul Seeley, piloting the app at his top fruit operation in Cambridgeshire.
Wondering how the sea buckthorn got its name? It directly translates to 'shiny-horse' and rumour has it that Genghis Khan knew the medicinal properties of the berries and would feed them to his horses to prepare for battle.
"As a small startup business, it's great to have a simple, user-friendly system that we can access to manage the data related to our growing season. The fact that it's free is an added bonus!"
The 2021 season is the seventh season for Seth and the team the Cornish Seaberry Company. The fruit itself is sold to British chefs, breweries, distilleries, chocolatiers, jam makers, skincare makers and even ice cream manufacturers! Later this year, the business hopes to produce its own brand of seaberry juice in addition to a selection of other seaberry related products.
Whether you are looking to try this new superfood for consumption or production, Seth would be happy to connect. You can reach him on social media and connect about all things seabuckthorn! @Cornishseaberry or visit their website to find out more https://www.cornishseaberry.co.uk