Matt Fealy, a commercial mango and avocado grower from Australia, shares his experience piloting Farmable's orchard management app in his horticulture business.
According to Matt Fealy, "the most critical feature for any AgTech is that it's built by a team that listens to its users".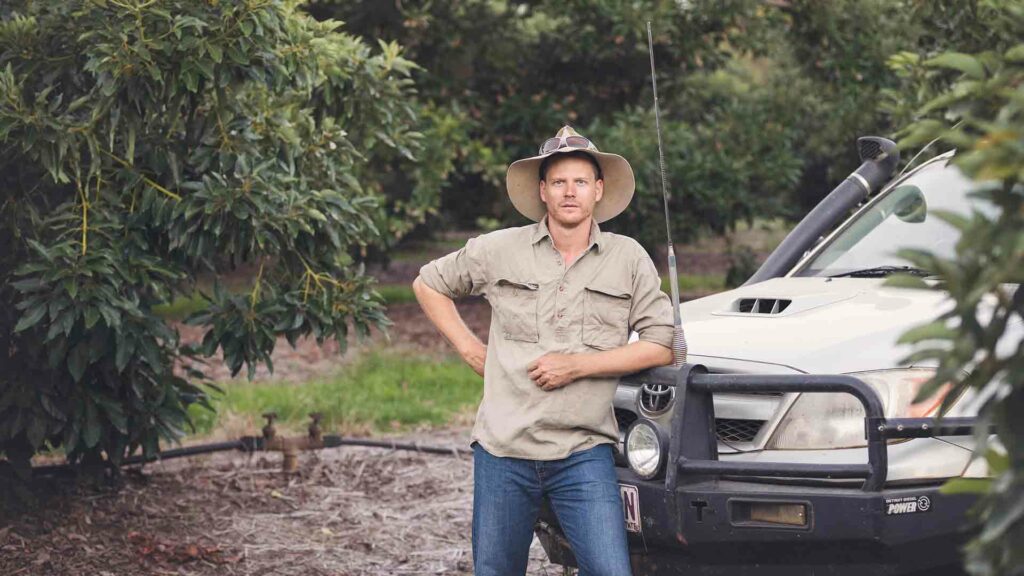 Farmable is the latest agtech player to arrive in Australia. With a mobile app designed specifically for tree-crop growers, the team's approach sets it apart from other farm management applications which are often built for broad-acre.
"I've been looking for a tool that fits my needs as an avocado grower. This is the closest thing I've found to be a match," says Matt Fealy, from Blue Sky Produce, "the fact that after mapping my fields, I was presented with settings such as tree spacing, variety, rootstock, things that are specific to tree crops, made me realize this app was the one."
Matt Fealy is the Farm Manager at Blue Sky Produce, a 153-acre family farm that produces mangoes, avocados and Tahitian limes for the Australian and international markets, located near Mareeba in Far North Queensland. Fealy has also become a global expert on digital solutions for horticulture, fuelled by his passion for innovation and a 2 year Nuffield scholarship. His Nuffield experience took him to no fewer than 14 countries, interviewing world leading agtech entrepreneurs, venture capitalists, insurance executives, policy makers and early adopter farmers. The overall result was a new perspective on the complexity of the problem facing modern farming and a renewed focus on pragmatic solutions that can add value to the farm from day one.
Matt volunteered to be a pilot user of Farmable to capture feedback and support development of the software. The pilot spanned 10 farms from North Queensland to Tasmania and included crops such as apples, mangoes, avocados and macadamia nuts.
Farmable is a mobile app for iPhone and Android users with a desktop portal for planning and reporting. It offers horticulture growers an easy-to-use tool to capture and organize field data. Initially, the product allows users to map fields, take scouting notes (with GPS coordinates and images), document crop treatments and track harvest to the field level.
Fealy started testing the product by digitizing 40Ha of his farm map on his mobile device. Thereby setting himself up to capture observations and developments in his block using the 'Field Notes' feature. Matt's favourite is the feature to plan, delegate and track the application of crop treatments in real-time. During the pilot, he completed 10 spraying jobs using the app which included live tracking of the 350kms driven.
"I can see which workers are doing a great job, sticking to the correct speeds and not wasting time, chemicals and money."
While piloting, Matt collected ideas and feedback that he forwarded to the Farmable team: "I told the team that I wanted to display average speed, total kilometres driven, add measurements such as mL/100L, and they implemented it. The responsiveness of the team really caught my attention."
The Farmable team grew out of Norway's largest fruit farm in search of pragmatic software to bridge the gap between spreadsheets and robotics. Connected to a farm, they understand how precious growers' feedback is and how challenging it can be to make time to try new technology.
Listening to growers and their advisors is critical to developing solutions, says Matt. He has committed to offering his support to the startup beyond their initial pilot. When asked why he believes in this team to build technology for growers, he responded,
"Sure it's early days, not everything has been implemented, but finally I feel like we have an app with foundations for fruit crop businesses, laid from the outset."
Going forward, Farmable will launch task delegation, weather system integration, exportable spray-reports and tracking of harvest.
"At the end of the day, you have to know that the team will listen to, and understand, your pain-points and value your ideas. This is the only way to develop a product with true value."