Rachel Anderson reports on how the Farmable app is currently being trialled in the UK by Cambridgeshire top-fruit business, Alan Hudson Ltd.
Farmable - created by top fruit growers for top fruit growers
From powered harvesting aids to state-of-the-art sorting, grading, packing and processing machinery, new technologies are frequently developed to automate and improve the top-fruit industry. One of the latest innovations being made available is a handy new orchard management app named Farmable. Rachel Anderson reports on how this promising piece of new software is currently being trialled in the UK by Cambridgeshire top-fruit business, Alan Hudson Ltd.
Top-fruit grower Paul Seeley, who helps manage the 90ha Bramley, Royal Gala, Braeburn and Conference pear farm in Wisbech, first learned about the Farmable app through an advertisement emailed to him from BIFGA. He says: "When I read about it, it immediately made sense to me because it's an app that's specifically aimed at top-fruit growers and created by top-fruit growers, which is a rarity in this industry. Most of the software that has been available to us so far has not necessarily been developed for our sector – it is just an aside. I could see that Farmable has quite a lot of promise for the future."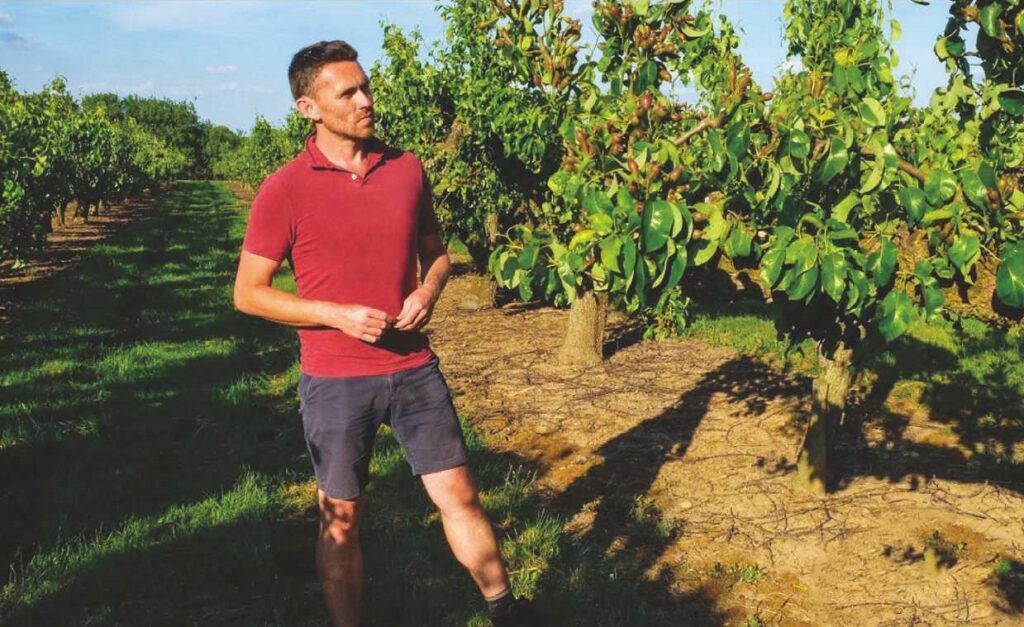 Paul Seeley in a pear orchard at Alan Hudson Ltd.
Paul signed up to Farmable and had a long discussion with the firm's chief commercial officer, Kaye Hope. He recalls: "Kaye's enthusiasm shone through in the conversation and I was quite excited to be able to help Farmable craft the vision that they have for the app." Kaye adds: "Software cannot be built in a vacuum, and teams like Farmable rely on the willingness of progressive-minded growers to trial innovative ideas and offer feedback to improve those ideas. Farmers are some of the busiest people on the planet, so when you find a team as dedicated to improving the industry as Paul Seeley's, you get an injection of motivation to innovate faster and meet user needs. The industry is fortunate to have growers like Paul, working overtime to contribute to a better future for top-fruit."
Paul and the rest of the team at Alan Hudson join a community of more than 300 commercial fruit farms that are using the platform. Most of these businesses are in the UK, Germany, Australia and Norway. In fact, Norway is where the app was founded by Lars Blikom, the co-owner of the country's largest fruit farm, Fruktgården. Kaye says: "Lars Blikom recognised that the advancement in R&D for horticulture had been focused on hardware – sensors and robotics, and there was a missing piece in the software platforms being offered to the industry. If his farm was tracking their daily operations in notebooks and spreadsheets, how could he ever expect to send intelligent data to operate an unmanned vehicle in a field?"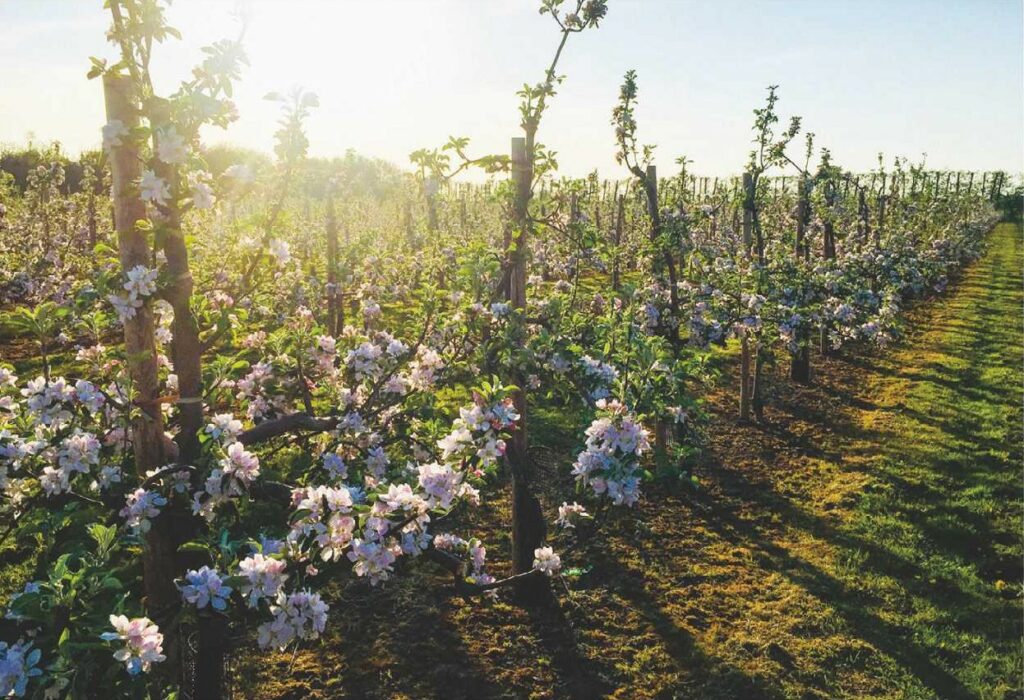 An apple orchard in full bloom at Alan Hudson Ltd's farm near Wisbech, Cambridgeshire.


The Farmable app was therefore designed, in 2018, to enable field operators, farm managers and agronomists to track, monitor and record operations through their mobile phones while generating a database of farm records to simplify reporting to authorities and marketing organisations. Kaye continues, "The database becomes the foundation for two things: in the short term, Farmable will offer a digital workbench to analyse data to support better decisions. In the future, the database becomes a source of intelligence for guiding more advanced machinery in the field. Farmable set out on a mission to re-invent how fruit farmers gather, organise and use their data, to prepare them for future technological advancements. In less than two years, the team has brought a user-friendly, mobile app to the global horticulture market with a focus on operational data capture for tree crops."
Kaye reveals that, as it continues to evolve, the Farmable app is free for British growers and agronomists to pilot for the 2020 season. Currently, it can be used to map fields, manage scout notes, and plan and delegate crop treatment activities. She adds that, using the GPS technology of smart phones, it also offers farm managers a real-time view of the work being done.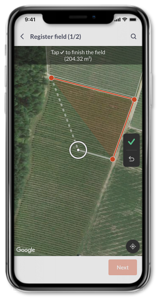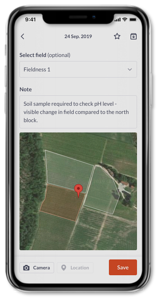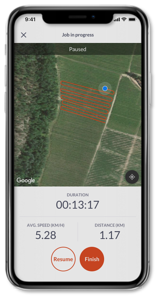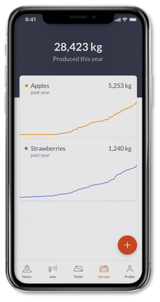 Whilst the new app is not quite developed enough for the Alan Hudson team to replace its current systems, Paul reveals that his team members are already confidently using Farmable to take field notes. They are busily identifying and recording a wide range of issues, including mishaps like broken stakes and incidences of common orchard diseases, such as fire blight. He says: "The guys are happier to use this app than competing products that we are currently using; and I've just invited our agronomist to trial the app, so we'll be sharing notes with him as well."
The employees at Alan Hudson Ltd, which, unusually, is owned by a charitable trust that invests in local community projects, have also been trialling the spray feature on the Farmable app. Paul, who assists the farm's managing director David Wheeler, explains: "For me, technology is important when it helps you do a better job with fewer manual inputs and enables you to take less time to do the same job. For example, at the moment the guys have to write out the times they started spraying and what the weather was like at a certain time. We write it on paper and I then input this information at the office. So, we have got two lots of inputting by the there which could be done with almost no input whatsoever. That, to me, is where technology should be. It should streamline the whole system."
As they trial the Farmable app, Alan Hudson's tractor drivers are using this evolving technology to track and log their position during a specific spraying task by using the GPS on their phones. Paul adds: "What would be ideal for me in future is where the guys on the tractor can literally just press 'start' and 'stop' and the app will input everything automatically – where they are on the farm, what time they started, what time they stopped, and the current weather conditions – picked up from our weather stations."
Paul also points out that by using this software mistakes should be reduced. "There can be problems, for instance, where one of the operators writes something down incorrectly. It is not their fault – we all make mistakes at the end of the day. This will take away that human error. With more stringent auditing, and rules and regulations, accurate reporting is more important than ever."
The vision for the future
Paul reveals that he and the Farmable team share a vision for the future whereby every job that can be done on the farm can be inputted into the app. "Rather than me telling the team members which jobs they need to do for the day, some of which they could forget, they could simply be given a list of each job on the app, along with a map. If, for example, they are not too familiar with the farm, they will know where to go to do the job; and then, when they have finished the task, they can register it as completed and move on to the next one."
Paul also hopes, in future, to use the data garnered from the app to help gain a better insight into how each orchard is performing. "An orchard could be taking up a lot of our time without us really realising it. Perhaps, for instance, the pruning takes a while and we might not be getting a huge amount of profit from it. So, rather than plant a new field, we might realise that it is better to grub an underperforming orchard and replace it with a well-performing orchard. So, I see the future in that respect."
Certainly, the app is continuing to progress, to better suit growers' needs, as Paul and other members of the international top-fruit industry continue to trial, and give feedback on, the technology. Kaye reveals, for example, that by the end of the season Farmable will be launching a web portal for integrating data streams such as satellite images, local weather station data or soil sensor data. To help make new features possible, the team is also working with innovative British ag-tech companies, such as Outfield, who provide orchard mapping, and fruit count and size data, from grower-operated drone imagery systems, to offer advanced imaging to its growers in one easy-to-use platform.
The Farmable app looks set to be of great use to the top fruit industry, simplifying everyday tasks and bringing information together in one place. As Paul says: "It's quite exciting where they are heading with this."