Product Inventory Management meets Farm Management
Over the past four years, we have been talking to hundreds of farm managers about the challenges in their daily operations. 
The main challenge we keep hearing about are the requirements for documentation for almost all aspects of operational management, especially in relation to regulatory compliance and standards such as Global GAP, Freshcare, QS GAP and others.
Besides the 'simple' record-keeping of all spray and fertilizer logs for audits, farmers tell us that managing their chemical product inventory remains one of the main challenges. 
It requires meticulous record-keeping of every product used on the farm and in storage. This includes details of purchases, receipts, usage for spraying and fertilizer applications, and records for disposals. All of which is time-consuming and error-prone if managed manually.
Main challenges with product inventory management
Days on farms can get quite hectic. Sudden problems with a tractor might arise, or a change in weather requires a spray application that was not planned for. In light of these daily unpredictabilities, it is no wonder that many farm managers experience the following challenges in the process of their inventory management: 
Keeping an updated log of products in stock at all times

to comply with regulatory requirements.

Manually updating inventory levels

in daily operations is too time-consuming.
Addressing this challenge, businesses typically use product inventory management systems. The main goal of these systems is to automate the documentation and record-keeping process so that time could then be redirected towards other crucial tasks on the farm.
Introducing Farmable's Product Inventory Management
To make this easy for you as a farm manager, we set out to simplify and automate the complex processes of tracking and managing chemical product inventory and usage as part of our mobile app.
Farmable's product inventory management feature addresses the most pressing challenge that we have learnt about in our conversations with hundreds of farm managers. We are excited to launch a solution that:
1) Makes it quick and easy to update inventories during a busy day.
2) Automatically keeps stock levels up to date.
3) Saves time preparing product inventory reports for audits.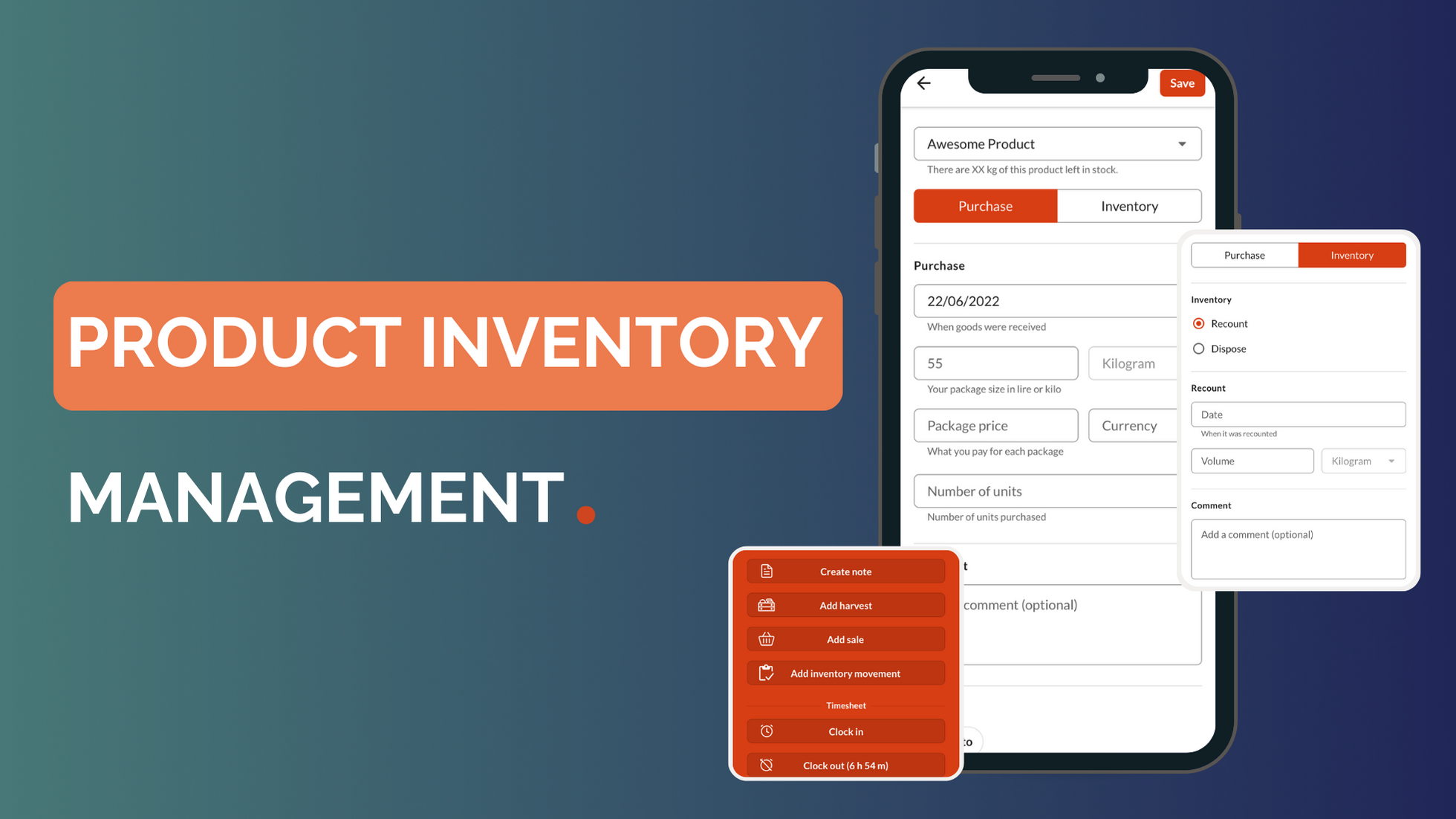 Our Product Inventory Management feature is directly integrated in our Farm Management Software. It offers a suite of features specifically designed to streamline and optimize the management of chemical product inventory on farms:
Real-Time Inventory Tracking:

Get an immediate overview of stock levels and usage for each chemical product in your inventory. Record new product purchases, inventory recounts and disposals.

Comprehensive Reporting:

Generate detailed reports on inventory turnover and stock levels meeting regulatory standards such as Global GAP, Freshcare and QS GAP by providing a centralized, easily accessible database for all chemical product information.

Automated Updates and Alerts:

Automatically maintain balanced inventory levels. Our app adjusts stock levels using product volumes from recorded spray and fertilizer applications.

Visualisation of Product Costs per Field:

Get a visual representation of product usage and costs per field and the value left in your inventory.

Remote Access:

Access your inventory information securely from any device, making it convenient for audits and planning of crop treatments.

Export Capabilities: Easily export inventory data in various formats (spreadsheets, PDFs) for audits, inspections, and reporting.
Notably, it saves significant time by eliminating the need for manual record-keeping and enabling automated tracking for stock levels. With automatic updates of stock levels and comprehensive reporting, you can now monitor chemical product inventory with ease and precision.
As one of our early users puts it:
This means more time to focus on core farming activities. Additionally, the system will soon enable you to easily prepare for audits and regulatory inspections by downloading a product inventory report at any time from your mobile device.
Implementing a farm management system like Farmable for chemical product inventory can improve efficiency, reduce costs, and ensure compliance with regulations. Farmable's product inventory management system is an efficient, user-friendly, and secure solution that addresses the challenges of inventory management on farms.