A customer success story of how Obstbauer Wedeking used Farmable to manage their harvest teams and get a better overview of their harvest progress in 2022.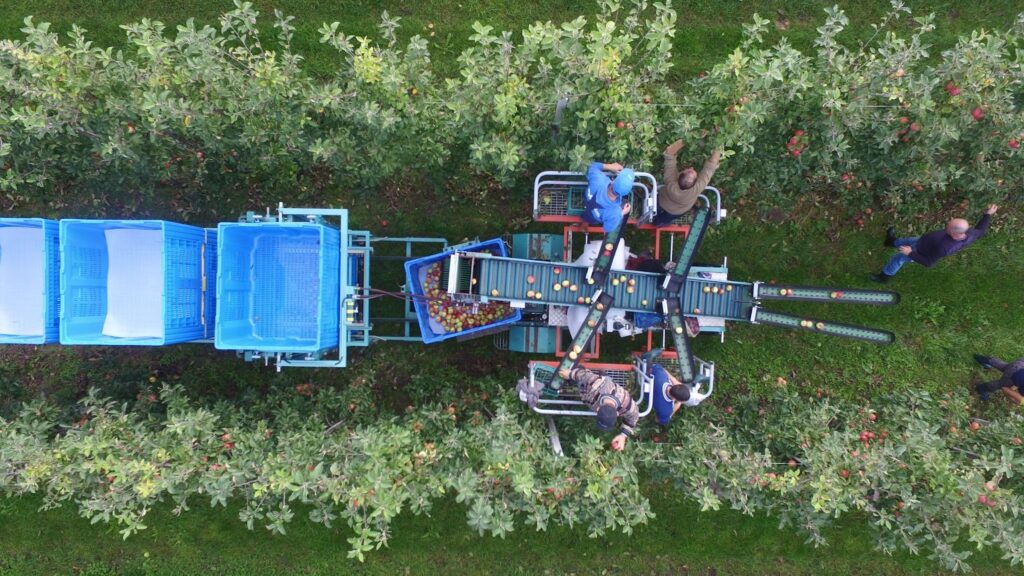 Obstbauer Wedeking
is a family farm located in Lower Saxony, Germany. In 1994, they started their fruit farm in Hameln with a small strawberry field. They managed the whole operation by themselves, from planting to chopping, picking, and selling the strawberries.
Today things are different, and they are an orchard with full-time staff and seasonal workers helping them deal with the daily operation on the farm. They specialize in growing fruit, especially apples, cherries, and strawberries. Besides, they still have a small portion of wheat, rapeseed, and maize, which is good for crop rotation.
Obstbauer Wedeking sells their products to regional supermarkets and also through Elbe-Obst, a producers' organization and a sales company established in Germany.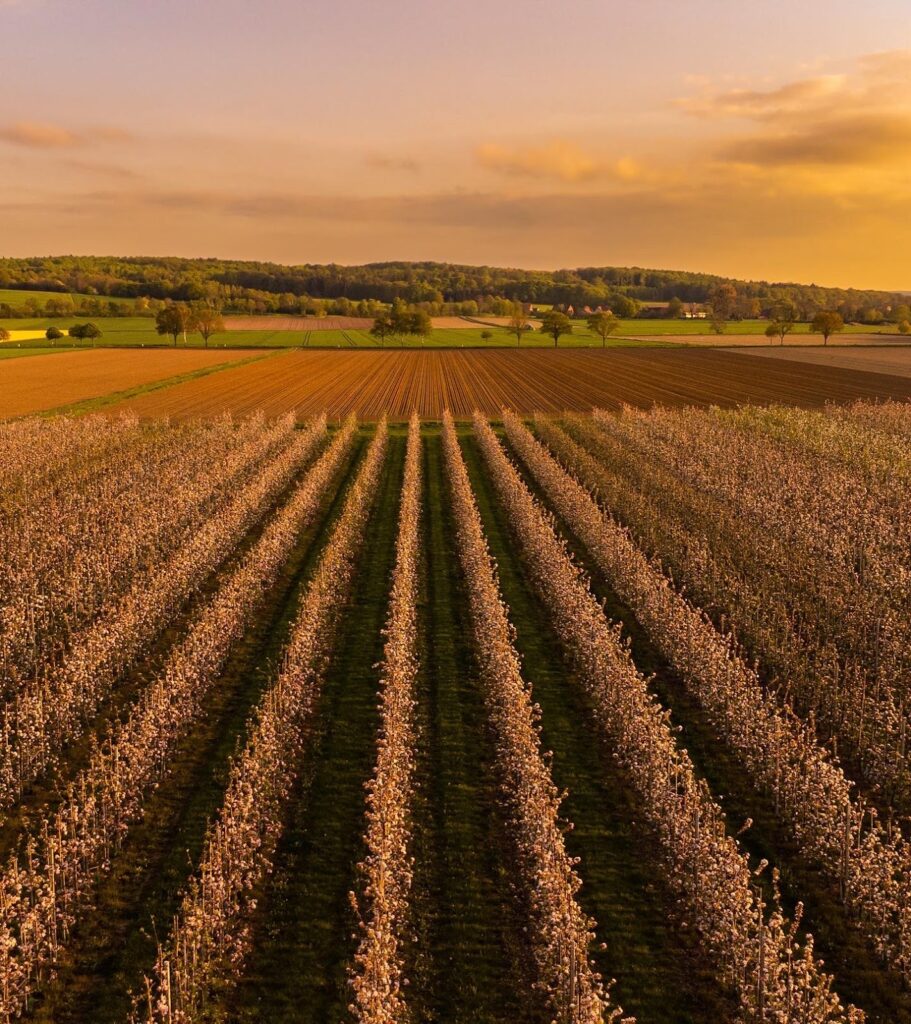 A young farm manager,
Henrick Alps
, manages the production at Obstbauer Wedeking. This summer, in August, she reached out to us to understand how Farmable could help them with team management.
Just before apple harvest, they were looking for a system to optimize their harvest process with:
Better overview of daily harvest progress, avoiding time spent driving around the fields to check the progresses.
Overview of daily and hourly production of different harvest teams.
Clear and easy instructions for picking teams where to harvest.
Easy harvest review after the season.
Know pickers who are working.
"At that time, we reached out to Farmable to learn more about your functionalities and understand how best to record our harvest and use the app to manage our picking teams."
At first, they started implementing
Teams & Timesheets
and had the farm management platform ready to be used within less than one week. They just went from the idea of implementing a system to the actual adoption and to a new process set up in a short amount of time.
What does the harvest process look like?
The steps to follow during picking are always the same, but farms implement several systems and different processes. Every farm chooses its own procedure, trying to optimize them as much as possible.
Obstbauer Wedeking's harvest process:
Plan. Every evening, Henrike prepares harvest instructions for the day after; she decides what fields and variety to pick and sets up the teams. Each supervisor then receives the instructions for the next day.


Pick. The first shift starts at 4 am with lighting and Pluk-o-Trak, a picking system that works as a harvesting aid. Teams are independent and meet at the farm to pick materials needed for the work. Then they drive to the field and start picking fruit. During the day, Henrike and some others from the team pick up filled boxes and supply new empty boxes so teams can proceed with the harvesting as best as possible.


Monitor. When starting their day, Henrike Alps and Christoph Wedeking used to do a round of their harvest teams to check how the teams were doing. They check for the amount of boxes picked, the sizes of picked fruits and if all workers are present, and if they need anything.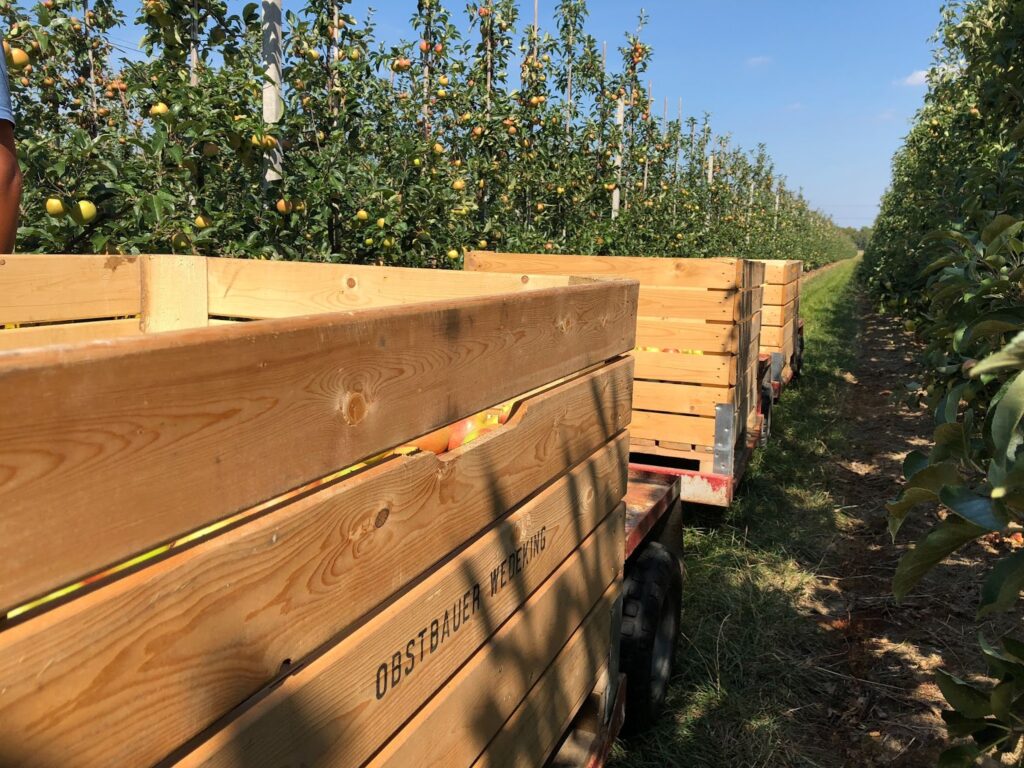 Team management & harvest monitoring with Farmable
"We invited the supervisors as crew to Farmable and set up a generic email for them. They also got a smartphone with access to Farmable". ~ Henrike
Once Obstbauer Wedeking set up their farm on our Farm management system, they added all the harvest teams directly in Farmable.
Plan. Every evening Henrike adjusts the teams as needed and starts planning for the next day. They invited supervisors as Crew in the Farmable app and set up a generic email to make it easy to hand the phone to different supervisors over time. Henrike created harvest jobs for each supervisor and his team and assigned the job.
Pick. When the shift started, the supervisor used the app to get the information necessary to understand what field and variety needed to be harvested. After that, the supervisor in charge started the harvest job and entered a harvest entry every time a box had been filled, easy as it sounds.
Monitor. At the end, they are able to see for each team, and harvest job how many boxes and kg had been harvested when they started in the morning, having a good overview of how the progress went. They could also see the time between each box and judge whether everything was going according to plan or if something was wrong, e.g., one worker was missing, if the size of the apples was too small, and so on. At the end of every day, they get results for each harvest job, and they can see how the total harvest volume and yield developed over time per field.
After the harvest season, Henrike used the harvest logs to review the year/harvest by exporting the results in an Excel spreadsheet available on the Web Portal. Their fruit volumes on their trees were really high this year. As they had been tracking the picking rounds in the mobile app, they already had a good idea of the yield per field. After Henrike analysed the harvest results using the harvest logs, they were happy with the quantitative results for the year.
This success story is a perfect example of how a good team management process accompanied by a farm management system enables farmers to check harvesters' performance and harvest volumes per day. They can set up successful teams, understand if there are problems in other teams, and work together to have better results. That allows farmers to keep track of the progress and implement future improvements for the next season, doing better year over year.