Two orchard farmers from opposite sides of the planet meet face to face and share common challenges and opportunities to leverage technology in horticulture.
Worlds apart these two growers face a common journey.
The distance between Oslo, Norway and Cairns, Australia is 14,028 km. For two fruit farmers, it's challenging to find locations further from each other. One struggles with drought and irrigation and the other with long, dark winters and short harvest seasons.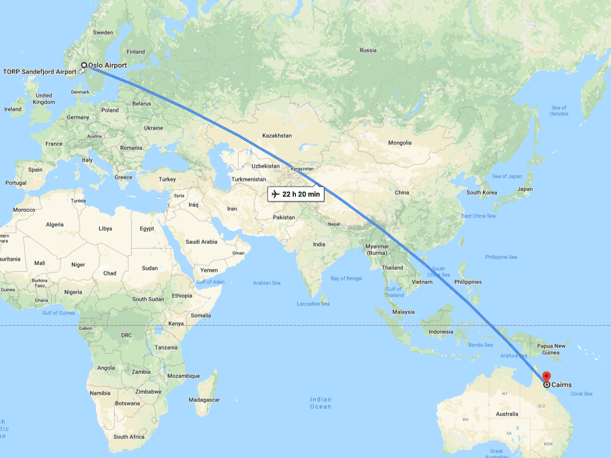 Lars Blikom, CEO of the Norwegian tech startup Farmable, travelled the 14,028 km eagerly in February to meet early-stage users of Farmable's mobile app for horticulture data management. While Blikom is the co-founder of a technology company he is also the co-owner of Norway's largest fruit farm. His first stop on a 2-week tour down-under was Far North Queensland, to meet some of the regions more progressive growers.
Martin Inderbitzin's, Kureen Farms, was a natural choice to experience how a tech-savvy Australian grower leverages digital tools in an orchard operation. Inderbitzin's farm grows blueberries, bananas, avocados and macadamia nuts across 4 different farms and utilizes nearly 50 pieces of agricultural equipment. Further, he has a track record of offering his time to pilot early-stage tech products and is up to speed on the most recent technology available to horticulture.
"Martin grows more blueberries on a single farm than all of Norway produces in a year, recalls Blikom. Given the complexity of his business, I am very impressed how well-organized the farm is."
As an engineer with 15-years of technology development experience, Blikom is himself an 'organized farmer'. When taking over his own family farm in 2014, he noticed a distinct lack of systems through which to manage data for a horticulture farm. He quickly got to work using google spreadsheets and forms to manage data around crop treatments, harvest volumes and resource management. Fast forward a few years and 14,000km and it's clear Blikom and Inderbitzin share this story.
"Spreadsheets are still fundamental to how I organize work between 3 farm managers and 6 spray operators", says Inderbitzin.
It would be easy to judge a commercial business like Kureen Farms as low-tech for running off spreadsheets, but in reality this couldn't be further from the truth. The 200+ Ha farm leverages it's fair share of technology. A quick tour of the premise and you can find weather stations, two irrigation systems including soil moisture probes, GPS equipped machinery, RFID tags on harvest bins and mechanical harvesters for his macadamia nuts. However, as Blikom also experiences, Inderbitzin agrees there is a missing control center for data management.
"Nothing fits horticulture perfectly", says Inderbitzin,"there is one application for irrigation, another for herbicide usage, another for weather monitoring – I easily have a dozen discrete systems supporting the farm."
"It's amazing to see the commonalities we experience in growing fruit on opposite sides of the planet. The challenges global orchard managers have when evaluating and implementing technology are staggeringly similar, says Blikom.
For both farmers, the scope of the problem is clear: horticulture needs a data management system geared for tree crops, that can be used to gather field-level data and integrate data streams from the many hardware sources found throughout a typical operation. Blikom is leading the change through Farmable, which has released a mobile app with a mission to simplify data capture and analysis for fruit farming. With cooperation from farmers around the world like Inderbitzin, the Farmable team is building the foundation to close the gap in horticulture data management
Interested in participating in a pilot program for Farmable?