The United Nations' Sustainable Development Goals (SDGs) can seem like an overwhelming and complex plan to achieve, but farmers have a crucial role to play in reaching these goals. We discuss agriculture's impact on many of the SDGs and look at the 17 SDGs as a framework for international cooperation and collaboration, and farmers can use them as a practical guide to making positive changes on their farms.
Have you wondered who really cares about the United Nations' Sustainable Development Goals? The short answer?
Everyone and yet no one.
Let me explain.
Opinions about the United Nations' Sustainable Development Goals (SDGs) vary among individuals and groups. Some people view the SDGs as an ambitious and necessary plan for addressing global issues, while others may have a more critical perspective. Factors such as personal experiences and cultural, social, economic, and political backgrounds shape different perspectives on the SDGs.
Necessary vs. Overly ambitious framework
For the thousands of years that human beings have been in existence, a crucial aspect that set our species apart from the others was the ability to work together in groups at scale.
Anyone who has dealt with this ability to organise and grow has also had to deal with an important challenge – how to get people to agree.
For some reason, and maybe it is a prehistoric hard coding, we approach new ideas or change with scepticism and condescension. Till the idea catches on or directly impacts us in a very tangible way.
That's one of the many challenges that the SDGs face.
I like to look at the 17 SDGs as a framework for international cooperation and collaboration. Could they have been formulated differently? Of course. Everything we build is human-made, and as humans we can decide on different ways of doing everything.
That's not the point.
Getting people in a small municipality to agree on a common way to collect or reduce waste is itself a daunting task. Most people believe that their ideas, or ways of doing things are better than others. All of that, in a way, has fostered innovation and progress as individuals and groups experiment with new ideas and ways of doing things.
However, if everyone believes that their way of doing things is better than others, how do you drive agreement? Scale that challenge up to 193 countries agreeing on common goals, targets and action plans, and you've got yourself the mother of all organisational challenges.
And that is the point.
The SDGs provide a framework for common understanding across countries, despite their differences, which can be used as a foundation for change. Hopefully positive change.
Are they overly ambitious or impractical to coordinate at a global level?
Perhaps. However, humanity has been driven by ambition from time immemorial. It's how we have built the world of today. And it is with ambition that we will build the world of tomorrow. The world we imagine.
The courageous little hummingbird
The Rotterdam School of Management had an interesting view on dealing with the SDGs – the hummingbird approach. The story below is told in their course, "Driving Business to Sustainable Development Goals." It is inspired by the story of the hummingbirds as told by Wangari Maathai, founder of the Green Belt Movement and Nobel Peace Prize laureate. 
Imagine a huge and lush forest that somehow catches fire. The fire grows and grows, and it becomes incredibly powerful. All animals have to flee the forest and can do nothing but look at the fire destroying their home. 
Then suddenly, they see a little hummingbird as it flies to the river, picks up a drop of water, flies back to the forest and drops the water in the fire. It returns to the river, picks up another drop, flies back to the forest and drops the water and so on. 
All the other animals look at him and tell him, "Hummingbird, what are you doing? You are so small and insignificant, and surely your actions won't have any effect. The hummingbird replies, "I may be small and insignificant, but I will do the best I can. I can always do the best I can."
I particularly connected with this story, as I also found the SDGs quite overwhelming when I started working with them. 
When you look at the SDGs, they may seem overwhelmingly complex and impossible to solve. Not only are they complex, but also interconnected. 
To give you an example, if one focuses on feeding the world one may be tempted to refer to mono-cultures, large-scale agriculture where only one type of crop is grown. This way, we can grow and harvest crops as efficiently. But often, this will lead to the decline of biodiversity, which will lead to land degradation. On which you cannot grow food anymore.
To err is human. To criticise is human too.
I started out a sceptic, and hence it makes sense to talk about some of the criticisms of the United Nations Sustainable Development Goals (SDGs):
Lack of funding

: Critics argue that the SDGs need more funding to achieve their ambitious goals, particularly in developing countries.

Lack of accountability

: Some argue that there is a lack of accountability and enforcement mechanisms to ensure that countries and organizations are meeting their commitments to the SDGs.

Lack of progress

: Some argue that progress on the SDGs has been slow and that not enough progress has been made on many of the goals.

Inequalities

: Some argue that the SDGs do not address structural inequalities and lack of attention to the needs of marginalized groups.

Lack of integration

: Critics claim that the SDGs are not integrated and coordinated enough, resulting in a lack of coherence and effectiveness in addressing global issues.

Overlapping with other international agreements

: Some argue that the SDGs overlap with other international agreements and lack clear differentiation, which makes it difficult to track the progress of specific goals.
The last point is particularly true in Agriculture, an industry beset by growing regulatory guidelines and compliance.
What Farmers think about the SDGs
Farmers' opinions on the United Nations Sustainable Development Goals (SDGs) vary, as farmers come from diverse backgrounds and have different experiences. It also depends heavily on their respective countries
During our interaction with farmers across Europe, Oceania, Africa, and Latin America, we find some common threads when it comes to how they view the UN SDGs.
Cons:
Lack of awareness

: Some farmers may not be aware of the SDGs or how they relate to agriculture and may not have the information or resources needed to engage with the goals.

Negative

: Other farmers may view the SDGs as too ambitious or unrealistic and may see them as having little relevance to their day-to-day operations or concerns.

Limited resources

: Small holder farmers may struggle with limited resources and knowledge to implement sustainable practices, making it difficult for them to fully commit to the SDGs.
Pros:
Positive

: Some farmers may view the SDGs as a way to improve the sustainability and profitability of their farms and may see the goals as providing opportunities for innovation and growth.

Climate change:

Climate change is one of the SDGs, and some farmers may see this goal as particularly important, as it is a critical issue for agriculture and food security.

Support:

Some farmers may appreciate the support the SDGs provide to small-scale farmers through agroforestry, sustainable land management, and climate-smart agriculture initiatives.
Unfortunately, many sustainability talks aimed at farmers tend to be preachy at best or vilify them at worst.
What's missing is a practical, no-bullshit point of view to cut through the haze and break it down into clear actionable things farmers can do cohesively in their daily operations and how they benefit from it.
Why Farmers are critical in the journey to meet the SDGs
Agriculture has a significant impact on the United Nations Sustainable Development Goals (SDGs).
According to FAO, half of the world's habitable land is used for agriculture.

Almost 90% of global deforestation is due to agricultural expansion, both cropland and livestock
Having all players in the agricultural industry on the side of the SDGs is critical to their success and, by extension, the planet.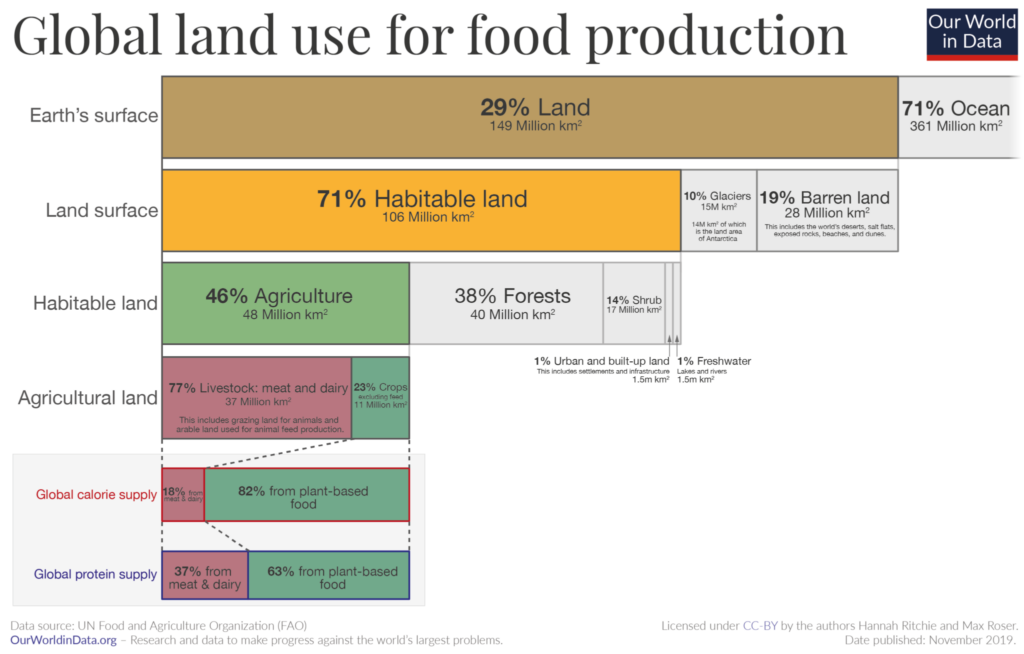 Some key SDGs which Agriculture impacts include:
Goal 2: Zero Hunger – this goal aims to end hunger, achieve food security and improved nutrition, and promote sustainable agriculture.
Goal 12: Responsible Consumption and Production – this goal aims to ensure sustainable consumption and production patterns, including sustainable agricultural practices.
Goal 13: Climate Action – this goal aims to take urgent action to combat climate change and its impacts, including on agriculture and food security.
Goal 14: Life Below Water – this goal aims to conserve and sustainably use the oceans, seas, and marine resources for sustainable development, which also involves sustainable fishing practices
Goal 15: Life on Land – this goal aims to protect, restore and promote the sustainable use of terrestrial ecosystems, forests, forests, and biodiversity, which includes sustainable land management practices.
Goal 17: Partnerships for the Goals – this goal aims to strengthen the means of implementation and revitalize the global partnership for sustainable development, which includes partnerships for sustainable agriculture and rural development.
Overall, the SDGs aim to promote sustainable and resilient agricultural systems that can provide food security and improved livelihoods for farmers and rural communities while also protecting the environment and addressing the impacts of climate change. How it does that is going to be interesting to watch and contribute to.
I find the SDGs helpful as a framework for driving cooperation at the local and global levels on common goals for the betterment of the economy, society, and ecology.

The Sustainable Development Goals (SDGs) are a call to action for all of us to work together to create a better future for our planet and for all its inhabitants. Having a shared language for all 17 goals makes it possible for us to truly understand the impact of our actions and to make meaningful change. It allows us to come together across disciplines and sectors, to share our knowledge and experiences, and to work towards a common goal with passion and purpose. It gives us concrete and tangible ways to make a difference and to leave a legacy for future generations.
Read how the Europen Union aims to impact Goal 13: Climate Action, and how it impacts the daily lives of farmers in the EU.