Feature Story: Zest Macadamias with Fiona Grigg & Richard Cobcroft
It started with a curiosity for farming and a keen interest to learn something new in the second half of their careers. Experienced entrepreneurs Fiona Grigg and Richard Cobcroft built a successful healthcare business together before considering a new venture in farming. In 2019, they took a leap into the unknown territory of macadamia nut farming and purchased their 35 acre farm in the Northern Rivers area, not far from Alstonville, NSW.  It was 'a little run-down' in their words, but together they saw it as an opportunity to continue learning and spending time outdoors; two important factors for staying healthy and happy. 
The Learning Curve: Challenges and Growth
The farm, known as Zest Macadamia, is today an efficiently run operation with Fiona and Richard managing the daily operations as a lean team of two.  "The learning curve has been incredible, "reflects Fiona as she considers how far they have come. The farm is located in a challenging area as it is surrounded by a sensitive, natural environment and a growing population from popular nearby towns such as Byron Bay. This drives a strong local concern about the chemical processes farms use.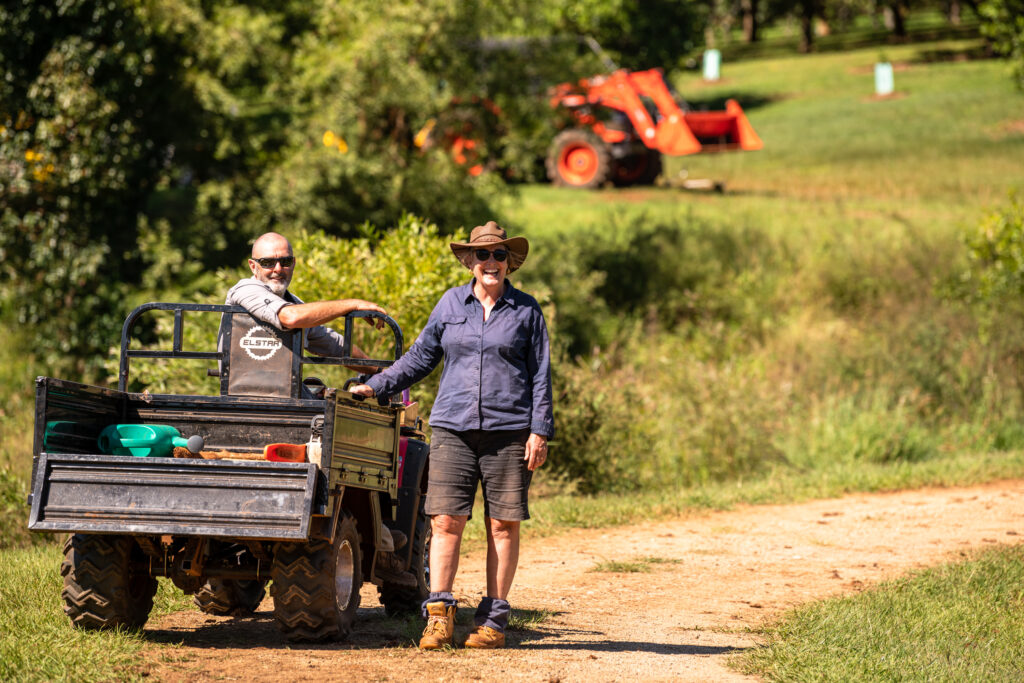 "We were naive about the legal and compliance piece of farming coming into this business," said Fiona. As experienced business owners, they organised the data for their farming operation into 3 spreadsheets:
Fertiliser applications
Chemical applications and chemical inventories
Harvest data
But spreadsheets can grow quickly and require constant maintenance to remain updated and useful; the wasted time in an office entering data can easily become a source of frustration. Eager to find a solution to the hours wasted indoors, the two asked for help from their Grower Liaison at Marquis Macadamia, Matt Weinert.
In 2021, Fiona and Richard adopted Farmable to simplify their farm operations. The freemium solution allowed them to efficiently plan, delegate, and track daily farm tasks.
"I can think about jobs to be done and get them scheduled right away for the future," explains Fiona. In the most recent growing season, they began to see the benefits of the Farmable Pro features and elected to try out the paid solution launched by Farmable for 159 AUD/year, which allows them to:
Automatically receive smart alerts on their mobile for withholding periods and re-entry intervals

Easily view product application limits when creating new spray jobs on the farm
With the paid platform, Fiona and Richard can export data on any fertiliser, spray or harvest job easily to an audit-ready PDF report or spreadsheet. This means the need to maintain their own spreadsheets can come to an end, and they can feel prepared for a compliance audit at any time.
Easy Communication and Compliance
Conversations with auditors or concerned local groups about weather conditions during spray activities on the farm have also become easier for two reasons.  First, Fiona and Richard invested in a Davis weather station for their farm, giving them access to highly accurate weather data for Zest Macadamia's location. Secondly, Farmable Pro integrates with Davis weather stations, meaning the weather station data is available directly in the Farmable App and is conveniently located alongside the job planning and active job workflows. Better weather data at their fingertips allows the pair to consider the best possible timing to spray, which is a complex enough decision when you account for the crops' needs and the natural environment surrounding the farm. 
Today, there is still one of the original three spreadsheets remaining on the Zest Macadamia office computer, and it includes the farm's product inventory levels. However, this won't be the case for long as the team at Farmable has recently launched a beta version of their upcoming Product Inventory Management module.
Fiona and Richard are now local Ambassadors for Farmable, and among the first to test the latest software release. They also dedicate their time to sharing their data management knowledge with fellow growers in Northern Rivers.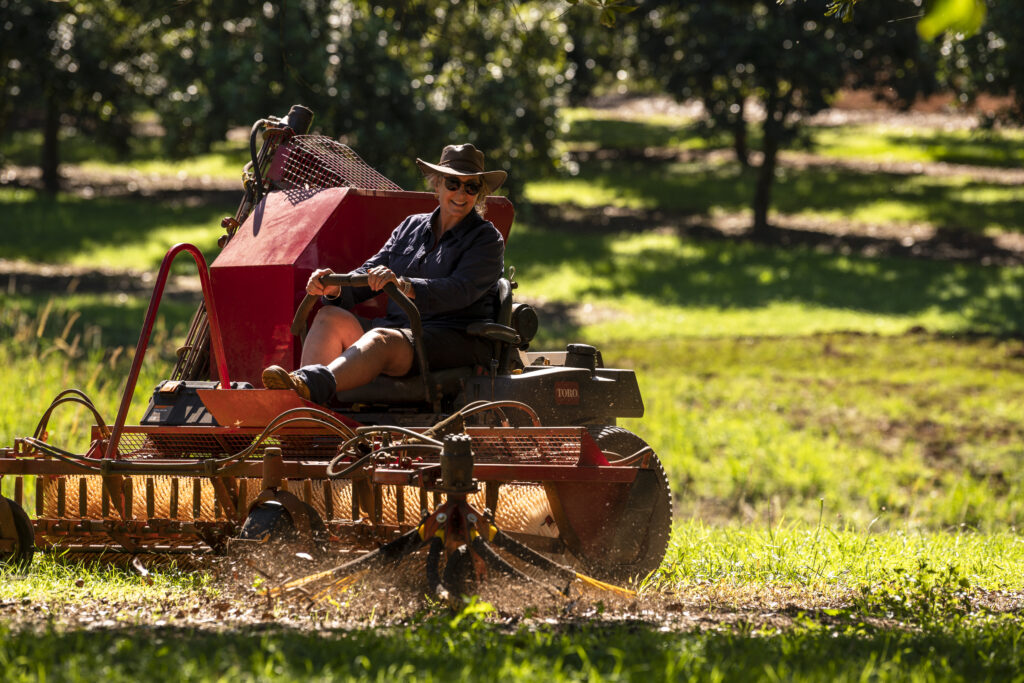 Clearly, ahead of the game, it's no surprise that these two experienced business veterans are on track to building a successful farming operation in less than a handful of growing seasons. Their early decision to have well-organised data, even in spreadsheets, has given them a foundation for being able to transition to a digital data management process with relative ease. Beyond the time savings on office work and improved decision-making in the field, using a tool like Farmable simplifies daily operations at Zest Macadamia. Fiona shares; "We don't run any other system, and I don't even keep my book anymore,"  that's the ultimate goal for the team at Farmable. Support farmers with their digital transformation. Less notebooks, less office work. More prepared farms for the future.  
Whether you use Farmable software or another digital tool, we are happy to see digital progress in the horticulture industry. Curious about how to think about data management on your farm?