New EU regulations are a game-changer for farm managers globally. If your crops are heading to Europe, you need to know the new rules to play by. 
What is the Farm to Fork Strategy?
If you haven't heard about the Farm to Fork Strategy, you aren't alone. Farms situated inside the EU are struggling to clarify the upcoming regulations stemming from the new strategy. So what is the Farm to Fork Strategy in the first place?  The EU aspires to be the first climate-neutral continent and to deliver on this mission, it has created the Farm to Fork strategy for farms in Europe. The strategy includes the following objectives: 
Have a neutral or positive environmental impact.

Help to mitigate climate change and adapt to its impacts.

Reverse the loss of biodiversity.

Ensure food security, nutrition and public health, making sure that everyone has access to sufficient, safe, nutritious, sustainable food.

Preserve affordability of food while generating fairer economic returns, fostering the competitiveness of the EU supply sector and promoting fair trade.
In order to meet these objectives, a variety of targets and new regulations have been proposed, some of which have already been confirmed through the EU legislative process. Other pieces of the strategy are still waiting to be confirmed, but the main trends are clear and worth paying attention to whether you produce food inside the EU borders or supply food to customers within the EU. Here is just a sample of what we can expect to change over the next couple growing seasons: 
CAP funding

will now be directly linked to eco-schemes

emphasizing precision farming, carbon farming, organic farming, and improvements in animal welfare. This marks a significant shift in incentivizing sustainable and environmentally friendly practices.

Digitization

of farm data will be essential to accurate reporting. 

From January 1, 2026, all reports must be stored electronically, necessitating farmers to embrace digital tools for efficient and precise data management.

Climate tracking

is also expected to be confirmed in 2025 and will likely be a mandatory requirement. This includes monitoring and reporting on electricity consumption, water usage, and fuel consumption. The introduction of such measures underscores the commitment to sustainability and environmental responsibility within the agricultural sector.
It would be easy for any farm operation, inside or outside the EU, to brush off these strategic initiatives as political movements that feel distant and far from the farmers' gate. However,  most sectors outside of agriculture already have legally binding targets from the EU Green Deal, and it won't be long before similar legislation is fully adopted for farming.  What's more is that the European Parliament has already indicated their intent to have an equal playing field with imported produce and its suppliers (details in their Oct.24th  press release).  This means whether you produce food inside the EU or you export food destined for the EU, the rules are going to change.   
Want to stay up to date on the changing EU Regulations in Agriculture? The team at Farmable distributes a digital newsletter on EU Compliance. You can join our mailing list for free in English, German or Spanish. ⬇️
What does it mean for EU-export markets?
For producers importing to the EU, this reference to 'ensure imports meet EU-equivalent standards' will not come as a surprise.  EU export markets are used to meeting international standards like Global Gap for their crops intended to be sent abroad. The relationship between these export markets and the EU is vital, and it cannot be underestimated how much the EU depends on imports to feed its growing population. Particularly in the fruit and vegetable sector, the EU is reliant on imports; nearly 45% of all global fruit and vegetable imports head to EU member states.
Import value share of fresh fruit and vegetables 2021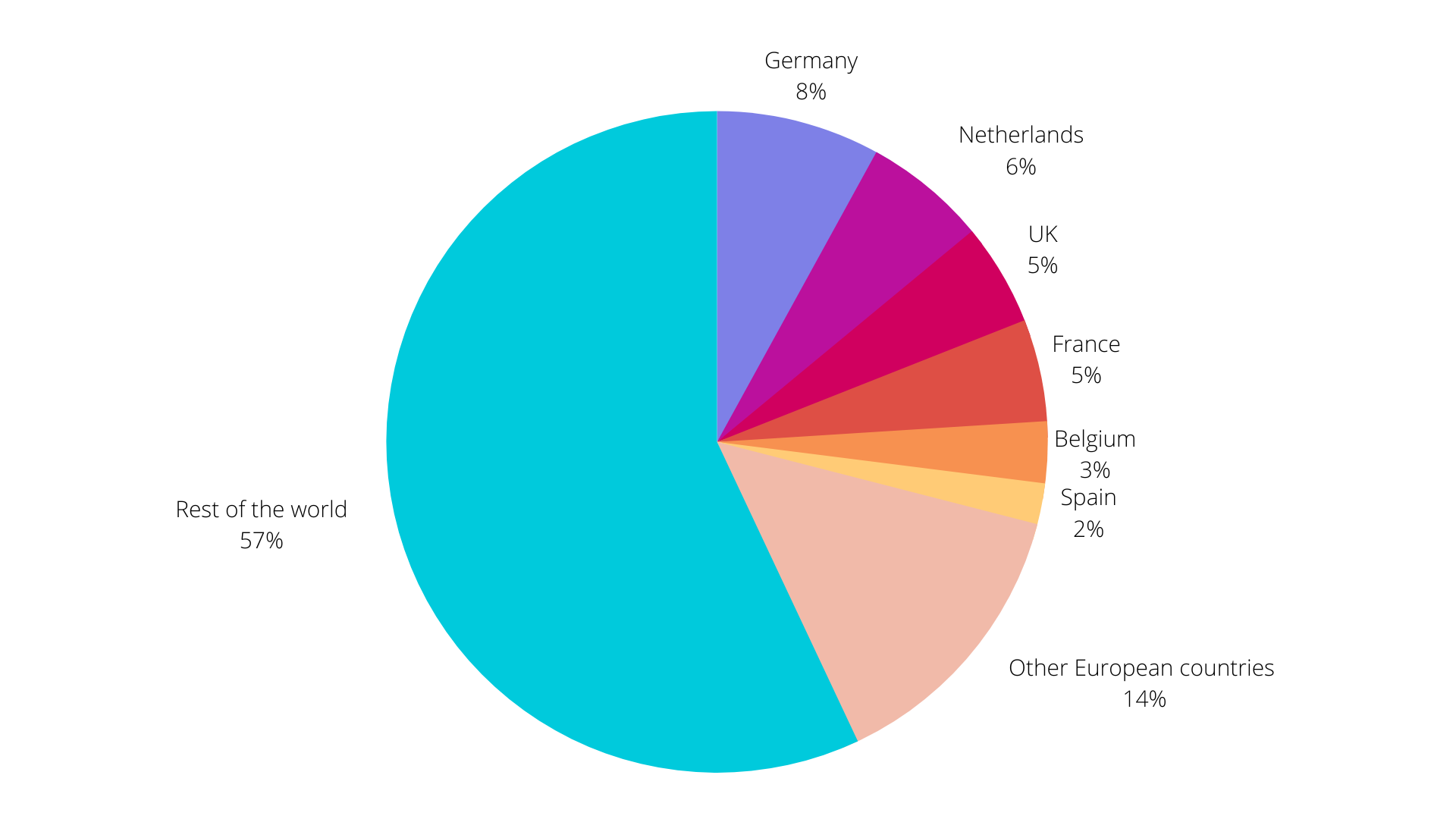 Conversely, many of these export markets will see the EU as its largest customer base. Countries like Morocco and Columbia send more than 60-70% of all their fruit and vegetable exports directly to the EU, and similarly, South Africa and New Zealand send more than 30%, respectively. Such an important relationship will need to be supported through the upcoming changes stemming from the Farm to Fork Strategy.
This leaves two main questions: What can we say concretely will change on an EU farm, and what standards can we expect to apply to import products? 
1) Effective 1 January 2026, EU farms will be legally obligated to maintain spray records updated to the last 30 days in an electronic format that is readily available to EU authorities. All spray records must also make reference to the geospatial location of the products applied. See the official EU Implementation Regulation from March 2023.
2) Integrated Pest Management is expected to become a mandatory practice to validate that all alternative methods of pest control are evaluated before chemical pesticides are applied. Farms should also expect to require a certified agronomist to approve all spray applications as part of the IPM program.  We have little reason to doubt this will be confirmed as a legal obligation by the EU Commission before the end of 2023. 
3) The Common Agricultural Policy (CAP), which provides financial support to EU farms, will have new conditions relating to the Farm to Fork targets starting in 2025 or 2026. Expected conditions include reporting on climate factors such as water and electricity consumption as well as worker conditions and machinery safety. This means farms will be both legally required and financially motivated to adhere to the changes. 
While the latest information doesn't state in absolute terms what will be legally required for EU imports, the latest press release clearly suggests that imports to the EU will be subject to the same standards as food produced inside the EU. If you manage a farm producing food for export to the EU, you have an opportunity to obtain a competitive market advantage by aligning your own farm's standards with those in the EU. To do that, the following questions should be on the top of your mind in the coming season:
Does my farm have a digital process in place for keeping spray and fertiliser records up to date?

Are these records readily accessible to the necessary authorities at any point in time? 

Are the records stored in a way that I can easily compare chemical use year over year? 

How can I verify my use of IPM and validate that chemicals are only used as a last resort? 

Can I easily obtain digital signatures from a certified agronomist to comply with IPM?
The upside of addressing these questions sooner than later goes beyond ensuring access to the European market. Keeping detailed, digital records of chemical use allows for more informed decisions, which can identify trends and ultimately lead to cost savings. By implementing IPM, you can reduce the costs associated with purchasing and applying pesticides while also helping to protect the environment. 
The regulations being led by the EU Farm to Fork strategy will specifically impact daily operations on the farm and will not easily be satisfied by a change in process from a downstream player such as a processor, packing house or export agency.  Changing work processes on a farm can take time, usually a season or two, to get everyone on board with a new work process. All that said, the time to prepare your farm for the changing EU regulations is now. 
How to make the most of your next growing season:
You can start small, but you need to get started
Change is hard, especially when the current ways seem to be working. However, starting with small changes accumulates to bigger changes over time.
Whether your farm data is digital yet or not, be sure it's well organized.

Consider if your work processes on the farm are reactive or proactive.

Is everything done first and documented later?

Transitioning to proactive work processes where documentation becomes part of the planning process reduces the administrative workload later, with the upside of clearly communicating plans across your farm team.

If you don't have a digital tool, dedicate time to testing a few to see what is easy to implement on your farm; while this research is an investment of time – you can easily earn that time back when your future administration efforts are reduced with centralised, accessible data for

automated reporting.
Include your advisor,  cooperative or export agency in the discussion. How will they easily be able to access necessary spray reports when approached by relevant authorities? Discuss how you can choose a system that will minimise the administrative effort for everyone involved when it comes to sharing timely information. 
Even if you continue some of your old ways of working, get started. Test a digital tool in a controlled environment. Try it for one crop, one field or one team.  Once you are confident in the chosen solution, you can roll it out to the broader farming operation and unplug the old ways of working. 
Suggested Further Reading
Want to learn more about the regulatory changes discussed in this article? You can keep yourself informed through the following policy areas within the EU Farm to Fork Strategy.
Sets stricter requirements for the use of pesticides and introduces new enforcement mechanisms for Integrated Pest Management, including mandatory use of electronic records. The sales of plant protection products will be monitored. The law is expected to be approved in 2023.
The new CAP is revised to provide more targeted support to smaller farms and allow EU Member States to adopt measures to local conditions. The policy includes objectives and measures to align it with the targets set forth in the Farm to Fork strategy. The policy introduces stricter conditions on certain CAP payments directly to farmers. It enters into force in 2023 and will run until 2027. 
The communication of November 2022 confirms the EU's targets to reduce fertilizer use and nutrient loss. The strategy defines the actions the EU will take to meet the targets, including a commitment to approve the Integrated Nutrient Management Action Plan early in 2023.
Want to stay up to date on the changing EU Regulations in Agriculture? The team at Farmable distributes a digital newsletter on EU Compliance. You can join our mailing list for free in English, German or Spanish. ⬇️